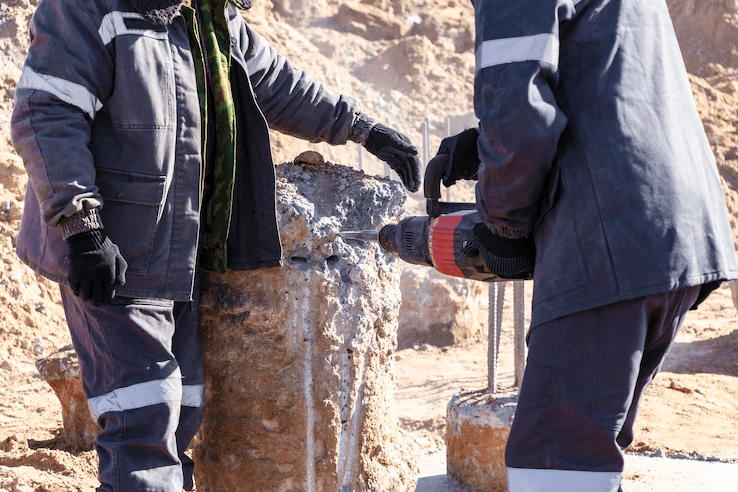 What To Look For A Foundation Repair Contractors In 2022
Posted on August 05, 2022
Your property is likely your most significant investment, so you need to work with a foundation repair contractor that will take good care of it. To ensure your safety for your family and loved ones, hire a qualified contractor to do the job.
How much do you cherish your home? Definitely, a lot. For one thing, you wouldn't want it to dig itself in the ground. To prevent such an unfortunate event, you must maintain your foundation correctly. Small cracks that can endanger the stability of your home's foundation are some of the warning signals you should watch out for.  
A foundation repair contractor should be certified, have excellent reviews, and have a strong warranty. But how can you track a reliable expert in foundation repair for such a job? This blog explains the qualities that a contractor should have.
Understanding the basics of Foundation Repair
Learning the fundamentals of foundation repair will help you find a reputable professional. You can't decide whether a contractor can handle your problem accurately if you don't understand a home's foundation and potential issues.
Understand the essential procedures for constructing and fixing a solid foundation, including material selection, footing installation and sealing, concrete curing, and foundation treatment. Although you don't have to become an expert in foundation repair, you should make an effort to understand the process as a whole. 
Determine the cause of the problem with your foundation, whether it is water damage, aging, or terrain. Identify the common reason for settling foundations as well. If you are aware of the issue affecting your basement, you may look out for a contractor who specializes in the particular type of repair you require.
Valuable tips for selecting a reputable Foundation Repair Contractor
Determine the correct licensing
Verify the license of your selected contractor needed to repair the foundation of your house successfully. More significant damage from an unqualified foundation repair provider could cost you more money.
Before being granted a contractor's license, foundation repair specialists must fulfill several requirements. Depending on the state, conditions typically involve passing certification examinations and completing various educational levels of study. An official license, often a general contractor's and a general engineering contractors, must then be applied.
Licenses are significant since they demonstrate a contractor's abilities to complete a project. To get outstanding results, be sure your foundation repair contractor is licensed. 
Check client and building inspector reviews
There are several locations where you can read reviews of companies. A few come to mind: Yelp, Angie's List, and HomeAdvisor. You can read about customers' testimonials with contractors to see if there are any common complaints or compliments. 
Not everyone will be perfect, but you may immediately tell if a contractor does a good job or not by looking for any patterns. Although another reliable source is harder to find, it is still worthwhile to look into. Building inspectors may provide feedback and let you know which contractors are reputable, knowledgeable, and capable.

Check your foundation repair contractor's insurance policy to be sure you're protected. You can be held accountable for damages if your contractor doesn't have insurance and an accident occurs while work is being done.
To safeguard their company from costly property damage and bodily injury, foundation repair contractors should at the very least obtain worker's compensation and general liability insurance. Mainly, the insurance coverage value of a contractor should be comparable to the cost of the work they will undertake. Ask to view the records needed to verify an independent contractor's insurance coverage. 

When it comes to foundation repair, experience is vital. Make sure the contractor you hire has experience in the field and a solid track record. These experts possess the technical know-how to address various foundation issues and resolve any problem that may develop. Experienced contractors are also more likely to have licenses from the appropriate governing agencies. As a result, you won't have to worry about dealing with a charlatan.

Check the reputation of a contractor
To ensure you get high-quality labour and service, research the reputation of the foundation repair contractor you hire.
Knowing a contractor's reputation can help determine their experience, reliability, friendliness, professionalism, and many other qualities. You can accurately ascertain a contractor's reputation by: 
Considering average ratings

Reading internet testimonials and reviews

Making reference calls

Contacting friends and family
Learn about the reputation of potential foundation repair contractors before hiring them.

To ensure that you get a contractor at a low price, create a budget for your home's foundation repair. If you don't establish a budget, employing an expensive contractor will cause you to spend more money on the job than you can afford.
To start, be familiar with the typical cost of a foundation repair. A foundation repair usually costs between $1,800 and $6,500, or roughly $4,000 on average. Nevertheless, costs greatly vary based on the type of repair. For instance, a tiny amount of damage might cost $500, while a significant repair could run you up to $10,000. You can make a reasonable budget if you are aware of the extent of the damage to your foundation.
After determining your budget, compare the prices of local foundation repair firms to pick the one that best suits your needs. Knowing the anticipated costs and the available local options, you can stay within your budget when having your home's foundation repaired. 
End Note!
Since foundation repairs are costly, it should be crucial for a homeowner only to spend money on a problem once. Arrange an inspection with your recommended foundation repair professional to complete the procedure.
The contractor will describe the precise issue, the average cost, and the potential timeline for an inspection. To select the best contractor and begin building, schedule an inspection or contact Atlantic Foundation & Crawl Space Repair