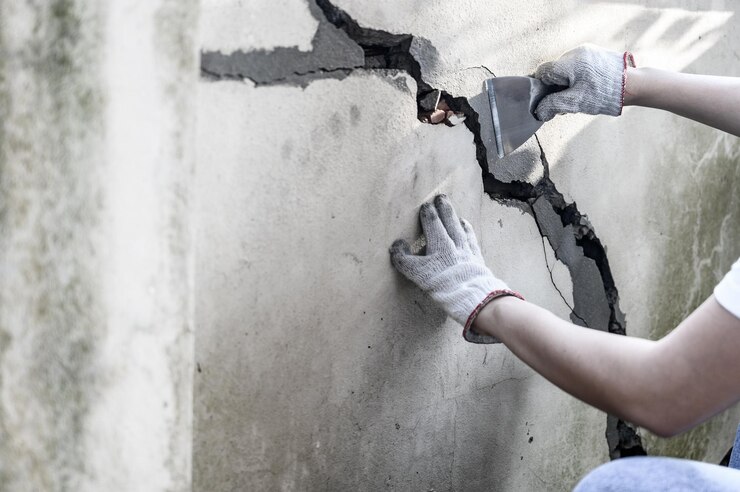 How Often Is Inspection Conducted For Foundation Repair?
Posted on September 15, 2022
The foundation of your house carries the weight of the whole building. And so, any damages that have occurred to the foundation can pose a significant risk to your property. Which indirectly shows that your house needs foundation repair
Due to this reason, you should never overlook the importance of regular inspections carried out by a licensed professional. It will help you to know about any of the issues at the earliest. 
Now that you know its importance, you may be thinking about how often to conduct inspections for foundation repair.
Having such confusion is common. So, to clear all your doubts, we have designed this comprehensive guide where you will learn about all these details. Now, let's get started with it:
Frequency Of Carrying Out Inspections For Foundation Repair
Periodic inspections are necessary, and you can consider this part of maintenance. Even if you fail to observe any issues with the foundation of your house, you should choose to have an inspection done. 
Your foundation is an essential component of your home. So, suppose you focus on preventing the occurrence of any future problems. In that case, it is necessary to opt for the assistance of an expert professional who will carry out the inspection work. It is highly recommended to have an inspection conducted every 5 to 7 years. 
The Floors Of Your House Has Become Slanted Or Sloped
You should never delay calling a foundation expert if you observe that the floors of your house have become slanted or sloped. Have doubts and want to check this? Consider placing a marble or ball on one side of your home. 
If you find that the marble quickly rolls to the other, then your floors have become sloped. It typically occurs due to the shifting that had happened underneath it. Thus, it suggests some severe issues with the structural supports of your house. 
In such a situation, it becomes crucial to carry out inspection work to find out the root cause of the problem. Also, whenever you call a licensed professional, they will thoroughly check the issue and take the necessary steps to combat it. 
They will also let you know if there is any need for foundation repair. In this way, by choosing to go for inspection, you could prevent the worsening of the issue. 
Jamming In The Doors Of Your House
If you observe jamming in the doors of your house, it could indicate something serious. Shifting of the foundation often results in causing the doors to be stuck. You will find it difficult to open or close the doors and cabinets. 
In such a situation, you should immediately call a foundation repair professional who will inspect everything and do the repair work if needed. 
Appearance Of Large Cracks Around The Exterior
You will get to know a lot whenever you focus on having a close look at the exterior of your house. It can provide you with an indication of several warning signs. It would help if you looked for cracks thoroughly. 
Any cracks found in the exterior portion of your doors and windows also suggest a serious problem. If you have discovered large and open cracks extending between the ground and the roof, it could be the right time to call a professional for an inspection. 
An experienced foundation repair professional will first do a check to see whether the cracks are of any risk or not. If they find any issues with your foundation, they will consider repairing it. 
Any Sorts Of Damage That Has Occurred To The Chimney
The chimney of your house can indicate if there is something wrong with the foundation. Any damage in the chimney suggests that it has started from your home's foundation. 
So, there is a high chance that the foundation will need repair. In such a situation, it would be best to approach a foundation repair professional who will offer you the required assistance. 
Whenever You Consider Buying Or Selling A House
Acting after seeing any warning signs is something that everyone does. But, if you wish to ensure the safety of the property to the fullest, you will sometimes have to act without even observing any signs. 
And one such situation which demands the call for inspection is when you plan to sell your house or purchase a new one. Moving into a new home where you are unaware of the foundation's condition is not a good idea. 
So, you need to seek assistance from a professional who will check this for you. The same thing applies when you are selling your house. You should also ensure that your home is thoroughly inspected before you hand over the house keys to the new owner. 
If Moisture Pools In Your Crawl Space
You are most likely to see pooling water in your crawl space if there is the presence of a leak in and around your house. It can suggest any significant problem that may have happened in the sewer line. 
So, instead of ignoring this sign, you should act immediately by calling a foundation repair professional. They will inspect the site and repair any issues before it worsens. 
Presence Of Interior Cracks Over Door And Windows Frames
If you observe cracks inside your house, it could be a concern. But note that every crack you see is not worth worrying about. You should understand which cracks can prove to be dangerous. 
Also, consider looking for cracks on the top of your door and window frames. If you notice cracks in the corners, then it indicates that there is a problem. Calling a professional for inspection is undoubtedly the best thing you need to do in this situation. 
In A Nutshell
A thorough foundation inspection will help ensure your entire house's protection. So, in all the above-discussed situations, you should immediately give a call to an expert foundation repair company like Atlantic Foundation & Crawl Space Repair. 
Being a well-known foundation repair, crawl space encapsulation, and basement waterproofing company, we are always dedicated to offering you the best-in-class services. Once you assign the inspection and repair work to us, you can stay assured. 
For more information, contact Atlantic Foundation & Crawl Space Repair today.