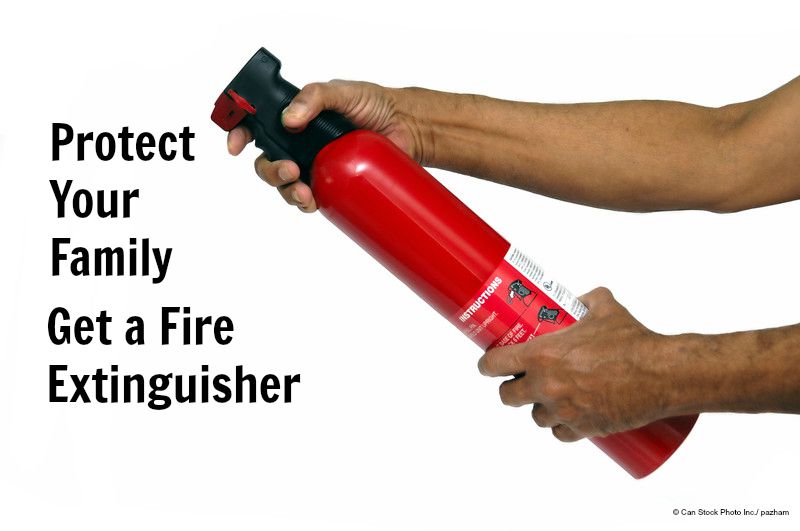 Home Maintenance Tip: Get a Fire Extinguisher
Posted on August 31, 2015
As many as 13,000 people are injured in house fires each year. Everyone knows that working smoke alarms are the number one line of defense in saving lives from a house fire. But, were you aware that smoke alarms are only one part of a "Fire Response Plan" that every home should have? A Fire Response Plan includes teaching all household members how to exit the house in a hurry, how to call 911 and where to meet outside. A Fire Response Plan also includes fire extinguishers.
Every home should have at least one fire extinguisher. A fire extinguisher can help suppress a fire along an escape route to provide time for residents to exit the home. A fire extinguisher can also help to contain a fire until the fire department arrives. Even if you think you have put out a fire, get the professionals to come to make sure that the fire is fully extinguished.
What Type of Fire Extinguisher Should I Purchase?
There are many different types of fire extinguishers. The type recommended for homes is 3A:40-B:C or a smaller version, 2A:10-B:C. The letters refer to the type of fires that are extinguished and a multipurpose one that will respond to A, B and C is preferable. The numbers refer to the power. A bigger extinguisher is better but only if you can maneuver it in an emergency. Only purchase a fire extinguisher that is UL approved. Don't forget to read the instructions.
Where Should I Put my Fire Extinguisher?
Because many home fires start in the kitchen, it's a good idea to have a fire extinguisher in or near the kitchen. Install fire extinguishers near exits and make sure there is at least one fire extinguisher on each floor of the home and in the garage.

How Do I Operate a Fire Extinguisher?
Before using a fire extinguisher, make sure that all people and animals are out of the house and that the fire department has been called. The American Red Cross recommends using the acronym PASS when using a fire extinguisher:
Pull the pin on the fire extinguisher.
Aim the fire extinguisher away from you and at the base of the fire flames.
Squeeze the lever slowly and evenly.
Sweep the nozzle from side to side.
When using a fire extinguisher, remember to always keep your back to an exit so that you can escape quickly. Leave immediately if the room fills with smoke.

Protect your family by purchasing a fire extinguisher and learning how to use it. Fire extinguishers can be purchased at hardware stores, big box home improvement stores and at specialty fire extinguisher service companies.
Please Like Us on our Facebook page or Follow Us on Google Plus
If you have questions about your home's foundation or foundation repairs, contact Atlantic Foundation and Repair at 919-855-0855.