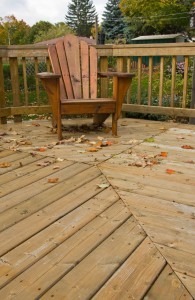 Home Maintenance Tip: Clean and Seal your Wood Deck
Posted on May 09, 2014
Decks add to the value of your home. To maintain that value, wood decks need maintenance. Now that spring has arrived, it's time to get your deck ready for those summer cookouts.
First, sweep or blow off any leaves or debris on your deck. Then apply a wood deck cleaner following the directions for application found on the bottle. Be sure and cover shrubs and plants adjacent to the deck as the chemicals in the cleaner may harm them.
Now you are ready to power-wash your deck. Choose a setting that has a steady stream of water but isn't too strong. Turbo-washing can damage wood deck boards. The deck will need to dry for a couple of days before you can seal it.
Select a sealer that is semi-transparent or solid. Clear sealers don't protect the deck boards from the sun's ultraviolet rays. Using a roller is the most efficient way to apply sealer to a deck using a brush for railings and touch-up. Apply a thin coat and wait 20 minutes or so to give time for the sealer to penetrate into the wood deck boards. Then go back with a second coat to provide better coverage and consistency.  
Please Like Us on our Facebook page or Follow Us on Google Plus
If you have questions about your home's foundation or foundation repairs, contact Atlantic Foundation and Repair at 919-855-0855.