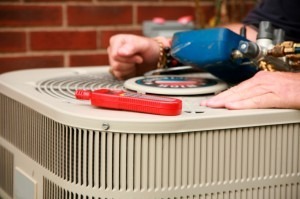 Home Maintenance Tip: Get an Air Conditioner Check-Up
Posted on May 02, 2014
Winter has slowly turned into spring and summer will be here soon. It's time to service your air conditioner before summer rolls in with those hot, humid days.
You may wonder what a typical pre-season air conditioner check-up involves. A service technician will likely perform the following activities:
Check for proper refrigerant levels.

Clean the condenser coil if needed.

Check the filters.

Check and clean the condensate drain line.

Check and reset the thermostat especially if it's programmable.

Make sure that there is proper air flow and cool temperatures.
If you have an older unit, having a service call for your air conditioner is all the more important before the summer season gets cranking. You can then anticipate needed repairs before the temperature gets so hot and strains the system.
The time is now! Contact your licensed heating and air conditioning professional to schedule your air conditioner check-up.
Please Like Us on our Facebook page or Follow Us on Google Plus
If you have questions about foundations and foundation repairs, contact Atlantic Foundation and Repair at 919-855-0855.