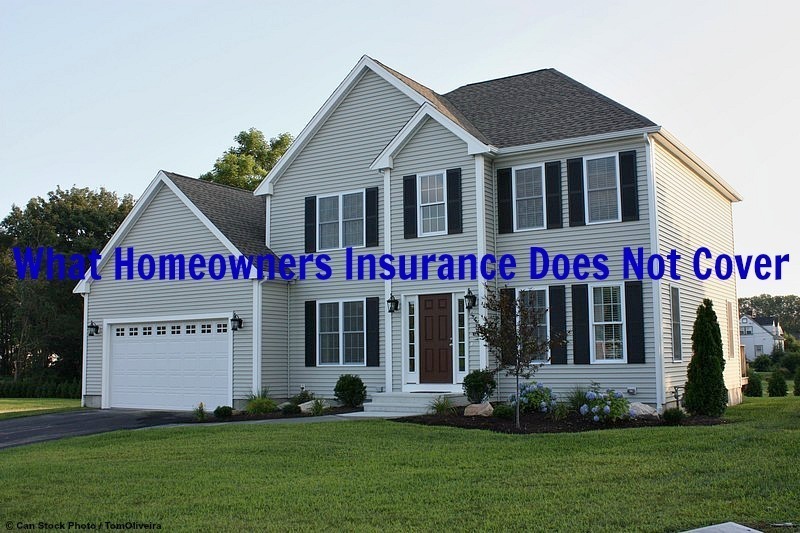 What Homeowner Insurance Does Not Cover
Posted on February 28, 2017
Let's face it. None of us takes the time to read our homeowner insurance policy. We know we should have a policy for fire and burglary, but we don't think much about the many other types of claims we might have. Unfortunately, what you don't know could be costly.
Here are four hazards that your homeowner insurance policy may not cover:
Flooding:
Rising water external to your house from an overflowing river or heavy rains, for example, is defined as flooding. More homes are prone to flooding as development of land has increased. Flood maps are not up-to-date. Your home could be at risk, but private homeowner insurance policies do not cover flooding. However, this protection can be purchased through the federal government's National Flood Insurance Program administered by FEMA.
Water damage caused by water entering your home before it hits the ground is usually covered by homeowner insurance. These instances could occur because of a roof leak, a sudden burst plumbing pipe or other plumbing issue. Home insurance is intended for sudden or accidental events and not for general wear and tear. Owners bear the responsibility for maintaining a home such as repairing slow-leaking plumbing pipes or replacing rotted siding. In addition, claims caused by negligence may not be covered. For example, burst plumbing pipes caused by cutting the heat off in your house during a winter vacation may be considered negligence and not be covered.
Sewage Backup:
Municipal sewer systems are aging. More and more homes are being connected to these declining systems making sewage backup more likely. Also, much of the piping was designed for both storm water and raw sewage. During heavy rain storms, systems can become overwhelmed. In addition, tree roots can grow into cracks in the pipes causing blockages.
All this means a greater risk for a sewage backup in your home damaging your furniture, walls and floors as well as causing damage to your electrical system. Cleaning up after a sewage backup can cost $5,000 to $30,000 or more. Standard homeowner policies do not cover sewage backup. Fortunately, there is an extra endorsement that can be added to your homeowner's insurance policy to cover such risks.
Mold:
There are thousands of species of mold and all require moisture to grow. In homes, this moisture can come from flooding, plumbing leaks, roof leaks or other ways that moisture enters homes. Mold growth can result in an unsightly appearance on building materials as well as lead to a variety of significant health symptoms. Homeowner policies usually exclude or severely limit mold damage coverage. You may be able to purchase an endorsement for additional coverage.
Eliminating any moisture in your house right away can prevent mold. Remove wet building materials and use fans to dry exposed areas. Your policy may cover claims if the mold results from a sudden plumbing leak, for example. It is always the homeowner's responsibility to act quickly to fix the problem right away.
Termites:
Though small, termites can cause a lot of damage. Each year, termites are responsible for at least $5 billion in property damage to structures in the United States. Colonies of termites eat wood and dead plant material that is in contact with the ground near or adjacent to the house. In a short amount of time, termites can methodically devour the wood framing in your home.
Termite damage is not covered by typical homeowner insurance policies. However, prevention and early intervention are the best practices. Have a contract with a licensed pest control company to inspect your home for termites at least once annually.
Contact your insurance agent right away to review your homeowner's policy and learn what is not covered. Protect your home and your family. Consider purchasing additional coverage for risks that are not now covered. Keep up with maintenance on your home.
Please Like Us on our Facebook page or Follow Us on Google Plus
If you have questions about your home's foundation or foundation repairs, contact Atlantic Foundation and Repair at 919-855-0855.