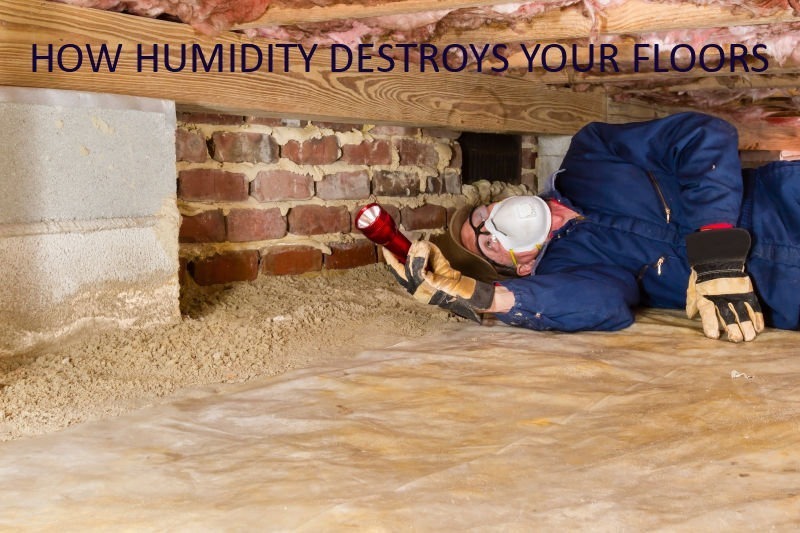 How Humidity Destroys Your Floors
Posted on March 21, 2020
Have you noticed any bowing in your floors or vibrations as you walk across a room? When dealing with an older dwelling, if you are experiencing either of these, it may be an indication of a deeper problem originating from beneath the house.
Many homes in the Southeast have been built with a crawl space which is useful for running plumbing, electrical, and heat/air ducts. For homes built on a lot with a sloping surface, this is often the best option to secure a level foundation. Crawl spaces are also an alternative to building out full basements which may not be practical or desirable for some home designs. Over 9 million homes in this area of the country have crawl spaces. Most of these have been constructed with wall vents which can create moisture problems.
When dealing with problems with uneven or soft floors, you may want to examine the crawl space. Often homeowners, pest control, and heating (changed punctuation) and air conditioning professionals find moisture in the insulation, moist wood, and/or, in some cases, mold in the crawl space. Although wall ventilation can control some moisture problems, that ventilation may not be enough. The solution to this excess moisture is to create a closed crawl space system to control humidity and preserve the integrity of your dwelling.
Most of us do not enjoy or venture down into the crawl space and do not do so until significant problems surface. You can avoid problems that cause warping floors by checking for yourself periodically. When professionals do maintenance or work under your house, they usually let you know if they see these symptoms. Some of the telltale signs to look for in your crawl space are puddles on the ground, a wet ground surface, moisture on pipes, equipment or insulation, moisture on wooden surfaces and/or mold. These are indications that there is a moisture problem in that area.
Over the years your house is going to settle but vibrating floors or rubbery-feeling joists are not part of that process. These indicators signal an abundance of moisture in your crawl space that may be causing an unwanted situation now or in the future.
Another contributing factor is the variation between the temperature in the wall-vented crawl space and the inside of your house. The difference between the two can produce moisture buildup that can affect your floors and cause them to feel bouncy or wobble as you walk across them.
The ducts for heating and cooling carry air with a temperature that is different from that in the crawl space. This can create "sweat" which might collect on the ground or remain in the air of the crawl space. Some of this moisture might accumulate inside the insulation around the pipes and can become a source of mold.
The solution to these situations is to seal the crawl space to prevent an increase of moisture below the house. Atlantic Foundation and Repair can provide a system that prevents water from seeping up from under the crawl space by creating a barrier below and then install equipment to remove any excess water. In addition, Atlantic digs a trench around the perimeter of the foundation so that if a sump pump needs to release water, it will not seep back into the crawl space. Including a ventilator as well protects the home from any gasses that may be coming up from the ground. A dehumidifier assures that the crawl space maintains a similar level of humidity as the home above. With this full solution, you can rest assured that your floors will last for years to come and the foundation below your house will remain protected.