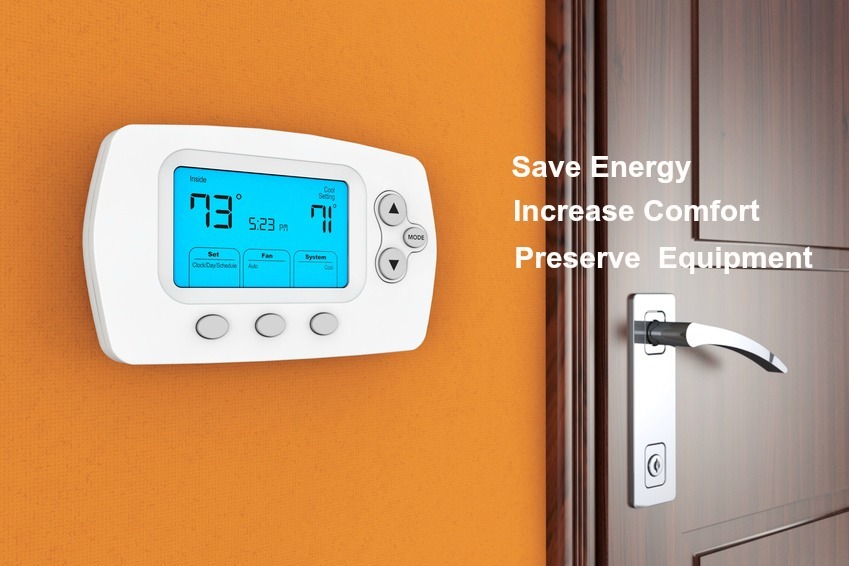 Home Maintenance Tip: Install a Programmable Thermostat
Posted on October 30, 2015
Heating and cooling costs make up approximately half of a home energy bill. By changing your thermostat 7-10 degrees in either direction depending on the season, you can save as much as 10-15% on your energy bill. It doesn't make sense to heat or cool an empty house when everyone is at work or school.
While you can manually adjust any thermostat, a programmable thermostat can make these changes automatically by interacting with your heating and cooling system. A programmable thermostat can save money on your energy bill if used correctly.
In addition, programmable thermostats help create a comfortable environment when you return home from work and when you wake up in the morning. They also can help extend the life of your heating and cooling equipment because it won't be working as much of the time.
Being motivated to save energy and money is what makes for the successful use of a programmable thermostat. There are many types of programmable thermostats. Selecting the thermostat that meets the needs of your household and is not too complicated to use is important.
There are four types of programmable thermostats:
 1 Week Type: Provides two settings, a warmer period and a cooler period, that run every day.

5-2 Type: Allows for the same schedule for the five weekdays and a different schedule for the weekend.

5-1-1 Type: Provides one schedule for the five weekdays and a different schedule for each day of the weekend.

7-Day Type: Allow different schedules for every day of the week.
Determining your programming options will depend on your wake time, sleep time, leave time and return time for each day of the week. You can then set you thermostat to go up or down depending on the time of year and according to when you are home and awake for maximum comfort; and when you are away from home and asleep for energy savings.
Other important features of programmable thermostats to consider are:
An "Away" feature so that you can override the programmed schedule while you are out of town.

Memory that saves the programmed settings if there is a power outage

Humidity sensors can be important as humidity plays a large part in comfort levels.

Large touch screen display
If you can benefit from a programmable thermostat, do the research to determine whether you have a more routine schedule or need more flexibility. Remember to get the simplest thermostat that meets your needs. You will not benefit if you simply override the settings on a regular basis. You can always contact your Licensed Heating and Air Conditioning Contractor for assistance.
Please Like Us on our Facebook page or Follow Us on Google Plus
If you have questions about your home's foundation or foundation repairs, contact Atlantic Foundation and Repair at 919-855-0855.