The Magic of Gutters
Posted on August 19, 2013
Most homeowners don't realize
the crucial role that gutters play in protecting their house from foundation damage. They are designed to gather water and direct it to ground with sloping that will transport it far away from your foundation. Without them, rainwater would cascade down the walls and form pools around your home. Over time, that water will eat away at your foundation and the soil that supports it, eventually costing you a fortune in foundation repair.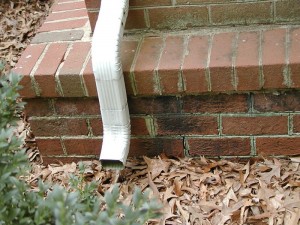 When you mention the word "gutters" to most people, they suddenly picture that commonplace, whitewashed, galvanized steel scaffolding that only obstructs the curb appeal of our homes. They have no idea that their gutters don't have to look like that. Ogee, straight face, box, half round, and quarter round shapes are all available in any color desired.
If you would really like to have the top of the line, you can have your gutters constructed with copper or steel. The beautiful, eye-catching addition of copper gutters to your home can also be a good investment, as they tend to last longer than their counterparts. However, preserving the gorgeous shine of new copper will require some work. The lesson to be learned here is that gutters can do more than just help you avoid foundation repair; they can be an aesthetic addition as well.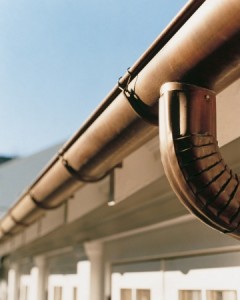 Maintaining your gutters should be a fixture of every homeowner's to-do list. While having no gutters is very bad, having damaged or obstructed ones is much worse. When piles of leaves prevent them from draining, water starts to pool and back up on your shingles. This can cause mold, dry-rot, and other severe damage to your roof. And once those leaves dry off, they can become a fire hazard.
But when you go to clean your gutters, exercise caution because using them as a ladder support is a common cause of their undoing. Leaves aren't your only adversary either. In colder climates, large formations of ice can exert enough weight on your gutters to rip them down. Bugs are another miscreant to be on the lookout for.
Modern technology has yielded us yet another convenient addition to our lives: gutter guards. They are specially designed to allow leaves and debris to pass over them, but still catch water. You still need to watch for ice build up if you live in a colder climate, but the amount of maintenance time will be reduced significantly. The trade off, of course, is that they are more expensive, but for the ever-aging, ever-busy, modern home buyer, that cost is well worth benefit. And when you compare that cost against the price of foundation repair, the choice is obvious.