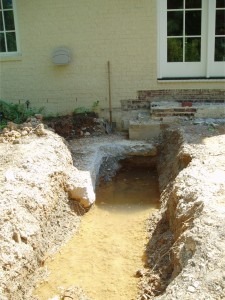 Protect your foundation by waterproofing
Posted on January 09, 2014
Incursion by surface water is one of the most costly repairs a homeowner can face, and the vast majority of time an insurance company will deny this type of damage. In the current fluctuating climate and with the threat of flooding, heavy rains, and sinkholes in the news on a daily basis, there has never been a more important time to consider waterproofing to protect the foundation of your home. Basements are known historically for being dark, damp places few people wish to visit, however in many modern homes basements are finished and converted into game rooms, home offices, and entertainment facilities. Flooding by surface waters can cause thousands of dollars in damage, even with minor levels of water.
In some areas, soil types, construction, or landscaping layout can cause water to collect against a home's exterior walls. Soil that is hard packed or poorly drained may not allow the water to be absorbed or to drain away from the home. Homes built in depressions or landscaped with hills or walls may hold water near the foundation, increasing the risk for damage and erosion. As water pools against a home's exterior walls, damage to the structural integrity can incur and water can enter the home through cracks and seams in the home's foundation.
Basement waterproofing can increase the value of a home and increase the living space, allowing homes to be completely finished and preventing damage to contents and foundation. Water seepage into the foundation of a home can cause erosion to the support structure of the home or freeze and expand creating cracks and buckles in the foundation walls. Common types of basement waterproofing include the use of sealants on both the interior and exterior of the home and controlling the water drainage under and around the home.
Interior sealants tend to be a temporary measure against wood rot and spalling. This will prevent an accumulation of humidity, but will not function as a long term solution. Exterior sealants use a polymer base that lasts the lifetime of most buildings, but this is preferred to be applied during construction. The most common method is the utilization of water drainage for existing buildings. This method may use specialized drains or pumps to draw groundwater away from the home and redirect it to drainage ditches. These must have dedicated electricity and airtight systems to prevent the seepage of gasses and loss of power during outages; however these will also add value to the home and are desirable to home buyers. Whichever method you choose, basement waterproofing will quickly pay for itself if your area experiences heavy rains or floods. Avoid costly repairs and headaches through the use of a waterproofing professional.