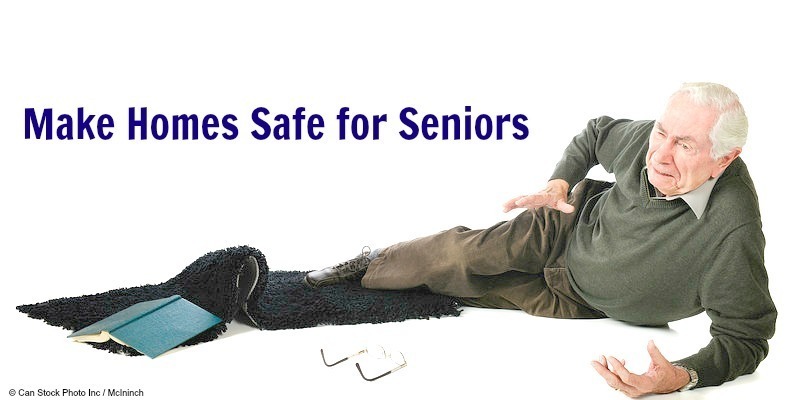 Home MaintenanceTip: Making Homes for Safe for the Elderly
Posted on April 08, 2016
There are currently more than 41 million people aged 65 or older in the United States with the number expected to rise dramatically in the years to come. Many of us will be dealing with aging parents and with our own aging in the years to come.
Seniors may have a variety of medical challenges including impaired hearing, balance issues, arthritis, impaired mobility and impaired eyesight among other issues. A third of people over 65 years of age fall each year resulting in 2.5 million visits to emergency rooms and over 700,000 hospitalizations.  Many of these falls could be prevented. It's best to think in advance how to make homes safe while aging.
What modifications can be made to a home to make it safe for the elderly?
Start outside: As you approach the house, are there uneven surfaces that could pose tripping hazards? If so, repair any cracked sidewalks or remove raised tree roots.
Remove booby traps: Create clear pathways throughout the house. Reduce clutter by picking up objects lying on the floor. Remove any throw rugs or runners.
Assess interior and exterior lighting: Make sure that all areas around the house are well-lit including sidewalks and the front porch. Add lighting to closets or pantries if necessary. Make sure that there is a light switch at both the bottom and the top of the stairs. Since seniors often need to use the bathroom during the night, utilize a nightlight in the bathroom.
Reinforce stair handrails: Seniors may rely on stair handrails to the extent that much of their weight may be pulling on the handrail. If possible, add another handrail on the opposite stair wall.
Install lever door handles: The elderly may have arthritis or little grip strength to use regular door knobs. Lever door handles can make opening doors a much easier task.
Pay special attention to bathrooms: Bathrooms can be a dangerous place for seniors and usually don't provide a soft place to land.
Install a raised toilet or elevated toilet seat.


Install grab bars on the shower or tub walls and on either side of the toilet. Grab bars provide stability for seniors who have balance problems or who are unsteady.

Install a non-slip mat on the bottom of the bathtub or shower.

Put a bench in the shower for stability and ease of bathing.

Remove the wall-mounted shower head and replace it with a handheld shower head and hose. The height of the shower head can be adjusted or it can be used as a handheld device.

Change faucet handles to a lever style.

Identifying and addressing safety hazards in your elderly parents' home and your own home can prevent accidents and injuries. If you need help, contact a handyman or for more extensive home modifications, contact a Certified Aging in Place Specialist Contractor.
Please Like Us on our Facebook page or Follow Us on Google Plus
If you have questions about your home's foundation or foundation repairs, contact Atlantic Foundation and Repair at 919-855-0855.