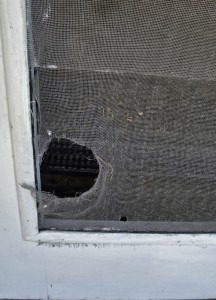 Home Maintenance Tip: Repair Your Torn Window Screens
Posted on May 24, 2014
If you like to open your windows to enjoy the spring weather, it's time to check your window screens for holes. Even small holes can provide an opening for mosquitoes, flies or yellow jackets to enter your home. Getting bitten by a mosquito while you sleep is not fun!
Holes that don't exceed 3" in diameter can be repaired. Patch kits are available for purchase at hardware stores and big box home stores. However, you may already have all the supplies you need.
The first step is to determine if your screen is aluminum or fiberglass. If the loose fibers at the tear are metal, then the screen is aluminum. If the fibers are more flexible, then the screen is fiberglass.
Obtain a piece of appropriate screening material either from an old screen that isn't being used or purchase replacement screening material at the hardware store. You won't need much for these small tears.
Trim the hole into a rectangular section. Cut your replacement screening 1" larger than the opening on all the sides.
For fiberglass screens, there are a couple of methods for securing the patch to the screen. You can glue the patch with a fast-drying adhesive. Be sure and place wax paper under the work area so that the glue does not adhere to your work surface. Alternatively, you can sew the patch on the screen using a curved needle and nylon thread leaving no slack or gaps.
For aluminum screens, pull some of the aluminum strands out of the patch on all sides. Bend the remaining aluminum strands into right angles before laying the patch over the hole. On the back side of the screen, bend the aluminum fibers flat leaving no slack or gaps.
Be sure and wear gloves when working with aluminum as it is sharp and can cut your hands. Also, be careful when working with fast-drying adhesive as it sticks to any object it comes in contact with including your fingers.
Now that you've got your window screens repaired, you are prepared to enjoy those cool spring nights.
Please Like Us on our Facebook page or Follow Us on Google Plus
If you have questions about your home's foundation or foundation repairs, contact Atlantic Foundation and Repair at 919-855-0855.