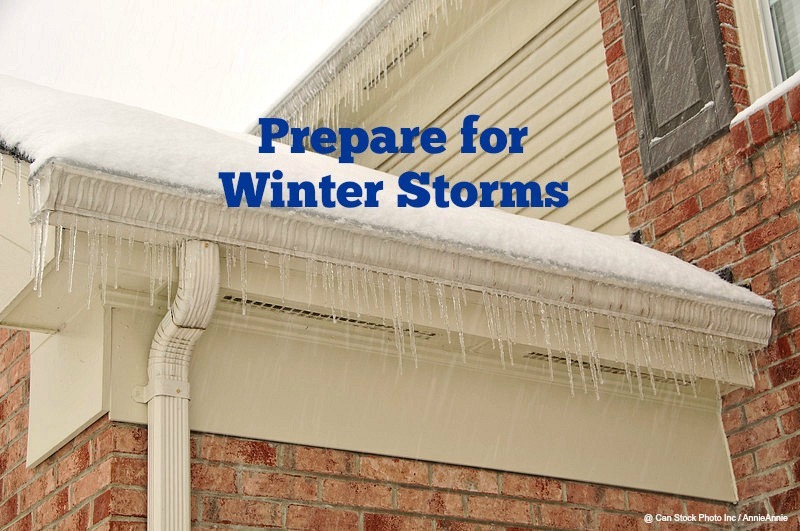 Home Maintenance Tip: Prepare for Winter Storms
Posted on January 08, 2016
During the winter, ice or snow storms.can knock out power and communications to your home sometimes for days creating a dangerous situation. Extreme temperatures and weather conditions can strain your home heating equipment and damage your home. Instead of grabbing an extra cup of coffee and watching television, spend time evaluating ways to keep your family safe and warm during the winter months.
Consider taking the following steps:
Insulate your attic and provide attic ventilation. With uneven attic insulation, ice dams can create barriers on your roof where melting water from higher on the roof works its way between and under the shingles creating roof leaks.
Clean your gutters of leaves and debris. Clogged gutters can trap melting water and also cause ice dams on your roof.
Unplug all garden hoses from the spigots and drain the hoses. If a hose remains attached to the spigot, ice can form in the hose and can cause the spigot to crack. Winterize your sprinkler system by draining water from the pipes either manually or through an automatic controller.
Trim tree branches that overhang your roof or the area where you park your cars. Remove trees that are sick and might fall during a winter storm.
Insulate plumbing pipes in unheated areas such as a crawl space. Leave faucets dripping a little bit during extreme cold temperatures to avoid freezing. Learn where all water shut-off valves are located so that you can quickly cut the water should a pipe break.
Apply weather-stripping and caulk to drafty doors and windows to preserve heat inside your home should you lose power.
Consider an alternate heat source should you lose electricity. A fireplace, kerosene heater or generator can serve this purpose. Have a licensed electrical contractor install a generator. To prevent carbon monoxide poisoning, never use a generator or any fuel burning appliance indoors, inside a garage or near any openings to your home.
Develop an emergency plan for your family. Prepare an emergency kit and a communication plan for all members of the family. Make arrangements for evacuation.
By performing these tasks prior to winter storms, your home and your family will be as ready as possible to face storms that come your way.
Please Like Us on our Facebook page or Follow Us on Google Plus
If you have questions about your home's foundation or foundation repairs, contact Atlantic Foundation and Repair at 919-855-0855.