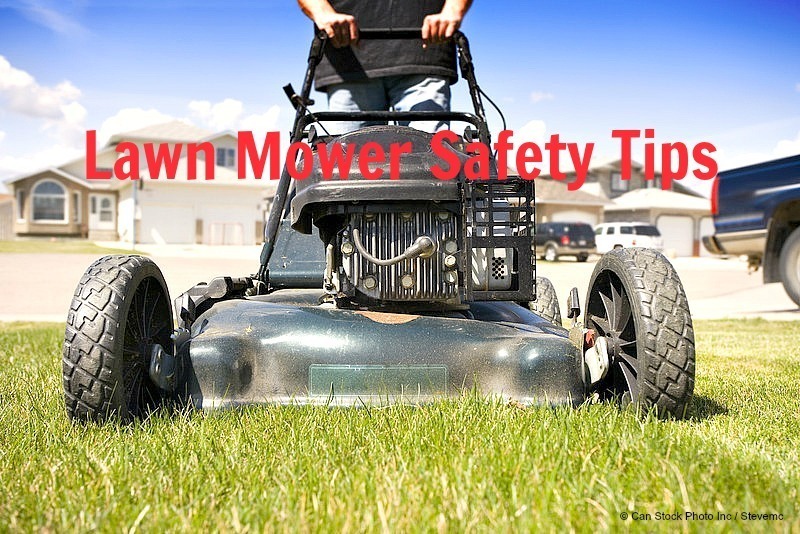 Home Maintenance Tip: Lawn Mower Safety
Posted on April 22, 2016
Mowing the lawn is a routine summer activity, but can be one of the most dangerous chores that homeowners perform. According to the U.S. Consumer Product Safety Commission, in 2010, more than 250,000 people suffered lawn-mower related injuries, some resulting in death. More than 600 children undergo amputations each year due to lawn mower injuries.
Most lawn mower injuries can be categorized into four types
Contact with the spinning blade can cause lacerations or amputations. These injuries can occur when placing a foot too close to the mower when the engine is running or when a person is clearing the discharge chute.

Propelled objects can result in blindness, severe bruising or even death. Lawn mowers can hurl rocks, sticks, wire, glass, metal, wood or other debris up to 100 mph at distances up to 50 feet or more.

Overturned riding mowers can pin a person under the mower causing lacerations from the rotating blade. Alternatively, the person may be crushed from the weight of the mower and suffer brain injuries.

Burn injuries can result due to contact with the exhaust, from the mower overheating or from even an engine fire.
Most lawn mower injuries can be prevented. Here are some safety tips:
Perform regular maintenance: Make sure your lawn mower is in good working order by having it serviced by a professional at least once a year, preferably before the start of the mowing season.
Read the entire operator's manual: There will be a section on safety procedures.
Dress appropriately: Wear sturdy, close-toed shoes. Do not wear sandals or flip flops. Wear long pants. Do not wear baggy clothing that could get caught in the lawn mowers moving parts.
Protect your eyes and ears: Wear safety goggles or wrap-around sunglasses. The sound of a lawn mower can range from 90 to 110 dB Sounds 85 dB or more are considered hazardous according to the American Academy of Audiology. Use earplugs to preserve your hearing.
Use good judgment: Do not operate a lawn mower while under the influence of alcohol or drugs.
Be careful with gasoline: Add gasoline prior to staring the engine. If you run out, turn the mower off and let it cool prior to refilling the tank. Since gasoline is a volatile, flammable liquid, store gasoline outside the house.  
Check your lawn before mowing: Pick up all sticks, rocks, toys, dog bones, twigs, wires and other objects that the lawn mower could potentially run over and hurl as a projectile.
Do not touch the engine exhaust parts: The exhaust can become very hot and cause serious burns.
Keep all persons and pets clear from the mowing area: Children should not ride as passengers on riding mowers or be towed behind. Teach children to stay away from lawn mowers. Never leave a lawn mower unattended when it is running.
Exercise caution when mowing steep slopes or drop-offs especially with riding lawn mowers: Watch for holes, bumps and ruts since uneven terrain could overturn a riding mower.
While you might be aware of most of these safety tips, it's always a good reminder that lawn mowers can be dangerous. Be safe not sorry.
Please Like Us on our Facebook page or Follow Us on Google Plus
If you have questions about your home's foundation or foundation repairs, contact Atlantic Foundation and Repair at 919-855-0855.