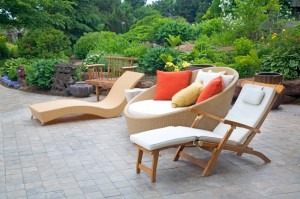 Home Maintenance Tip: How to Clean Your Outdoor Furniture
Posted on August 06, 2014
After cleaning your deck or patio, you may have noticed that your outdoor furniture is looking a little rugged. To prolong the life of lawn furniture, it's a good idea to clean it a couple of times each year.
Outdoor furniture comes in a variety of materials including plastic, wood, aluminum, wicker and wrought iron. No matter the material of your outdoor furniture, the basic steps are the same. First, use a brush to knock off debris that has splashed up on your furniture. Use a soap solution and scrub brush to wash down all surfaces. One recipe for a soap solution consists of a bucket of warm water, dish washing detergent and a tablespoon of borax. Use a spray nozzle on a hose to rinse. Caution: Don't use a pressure washer because it can damage the finish or surface on outdoor furniture.
In addition to the furniture, there are the fabric cushions and umbrella coverings. These are usually made of a synthetic vinyl or polyester. If cushion covers are removable, you can wash then on a gentle cycle in the washing machine. Use a fan to dry them. When still damp, install them back on the cushions so that they will dry to the needed shape. If the cushion covers are not removable, rub bar soap or baking soda on a scrub brush. Scrub the material and rinse thoroughly.
If your outdoor fabrics are treated with a water-repellant, you will have to reapply this repellant after washing. The foam cushions should be mildew-resistant, but if you notice the start of mildew, replace the cushions at an upholstery shop.
Cleaning the furniture will freshen up your outdoor living area and make for enjoyable entertaining. Using covers for your outdoor furniture is a good idea and will cut down on the frequency of cleaning your lawn furniture.
Please Like Us on our Facebook page or Follow Us on Google  Plus                                                                                                          
If you have questions about your home's foundation or foundation repairs, contact Atlantic Foundation and Repair at 919-855-0855.