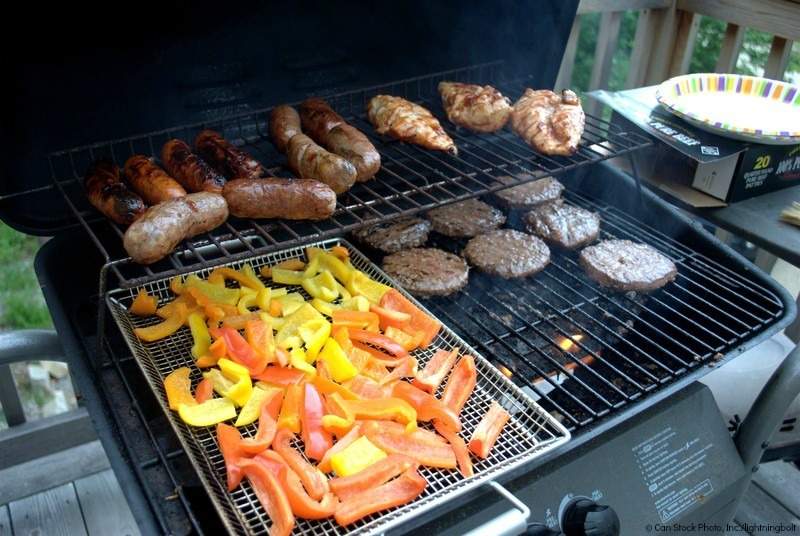 Home Maintenance Tip: Clean Your Gas BBQ Grill
Posted on May 09, 2015
Any time is a great time for a backyard cookout. Like other cooking appliances, cleaning and maintaining a gas grill will preserve its lifespan and improve the flavor of food. Here are some simple maintenance tips for your gas grill:
Keep your gas grill covered. A cover will help protect the grill from the elements. Purchase a heavy duty grill cover with a felt lining that will absorb moisture and wick it away from the grill.
Check for gas leaks. Brush soapy water onto the hose, all valves and connections. If you see bubbles when the gas is on, then there is a leak. Tighten or replace the connections and hose.
Inspect and clean the burner to make sure nothing is blocking the flow of gas. Make sure all burners are "off" before starting. A clogged burner produces uneven heat. If there are cracks in a burner, it needs to be replaced. Use a wire brush to loosen debris. Clean the small holes in the burner with a metal pointed object such as a skewer. Clean debris away from the burner. Don't push it inside the holes.
Clean the grates. Use a stiff wire brush to clean the grates after every use to prevent food from sticking. When you are finished using the grill and while it is still warm, brush off remaining food particles before they harden. When finished cleaning the grates, coat the grates with cooking oil.
Pre-heat before using. Start the grill 15 minutes before you plan to cook on it. This allows time for burning off any remaining residue and killing germs. Spray all cooking surfaces with cooling oil before heating up.
Gas grill safety tips. Keep you and your family safe by following these guidelines:
Keep your grill at least ten feet away from your house. Do not use your grill inside a garage, carport or inside any structure that is flammable.

Store propane gas containers upright and never leave them in your vehicle.

Open the grill lid before lighting the grill.
Consult your owner's manual for additional maintenance tips.
Routine gas grill maintenance will prevent the need for frequent heavy duty cleaning and give you more time to enjoy those cookouts.
Please Like Us on our Facebook page or Follow Us on Google Plus
If you have questions about your home's foundation or foundation repairs, contact Atlantic Foundation and Repair at 919-855-0855.