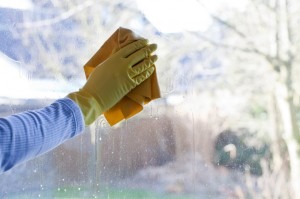 Home Maintenance Tip: Clean Your Exterior Window Glass
Posted on June 06, 2014
Washing the exterior of your windows may not be your favorite chore, but there are reasons why it should be done twice a year, once in the late spring and once in the fall.
Besides giving your home a neat and attractive appearance, cleaning your window glass helps to protect one of the biggest assets of your home. Window glass can be damaged by weather, airborne pollutants, minerals from water and rust from metal window frames. While glass may appear to be smooth, it is actually porous. Particles can adhere to the pores on the surface of the glass and build-up and cause damage over time.
Cleaning your windows doesn't have to be the time-consuming, elbow crunching job you envision. Using a bunch of paper towels or newspaper is not the way to go. It requires too much work and just smears the dirt around on the window leaving a static charge that can actually attract more dirt.
One secret to cleaning your windows is the cleaning solution. Home-made solutions work just as well or better than store-bought products. Here is one recipe: 1 gallon of hot water, 1/2 cup white vinegar along with 1 teaspoon of dishwashing detergent. To prevent streaking and drying the glass, you may want to add 3 ounces of Jet-Dry to your solution. Also, if your windows are extremely dirty, increase the solution to 50% white vinegar with 50% water.
First, wet the window using a sprayer nozzle on the hose. If the window is really dirty, use a soft-bristled brush or sponge mop dipped in the cleaning solution to clean the windows. The advantage of the mop is that it can be put on an extension pole for those hard to reach windows. After scrubbing the window, use your spray nozzle on the hose to thoroughly rinse the cleaning solution from the window.
Remember to be careful if you are using a ladder. There are professional window cleaning services if you want to hire this chore out.
Please Like Us on our Facebook page or Follow Us on Google Plus
If you have questions about your home's foundation or foundation repairs, contact Atlantic Foundation and Repair at 919-855-0855.