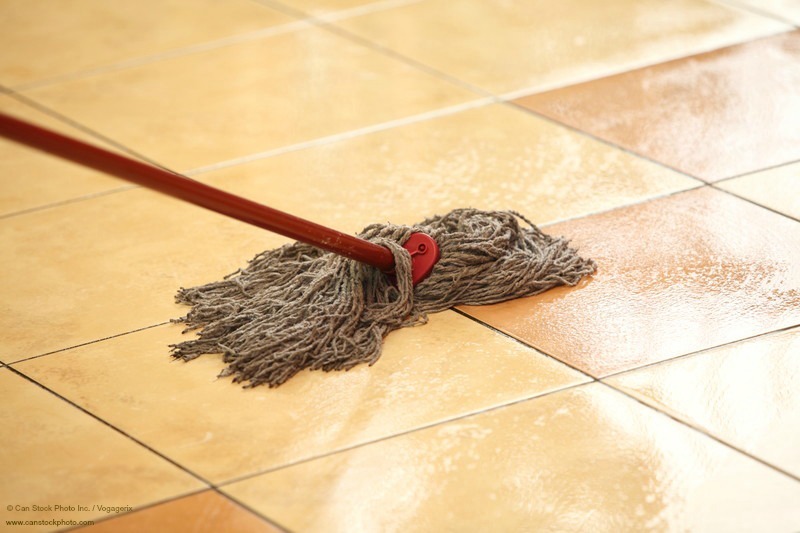 Home Maintenance Tip: Clean Your Ceramic Tile Floors and Grout
Posted on March 06, 2015
Ceramic tile is an excellent choice as flooring for kitchens, bathrooms, mudrooms, entryways and other areas that might get wet and dirty. Ceramic tile is made of clay and other natural products that are shaped and pressed before being glazed and fired in a kiln at very high temperatures. This process makes ceramic tile durable and resistant as a flooring material. The glaze on the ceramic tile provides a protective barrier from water, dirt and stains.
It is very important to learn what type of tile you have. Cleaning products for natural stones such as marble or travertine are very different from those for ceramic tile. Inquire at your tile store about what products to use for natural stones. This article focuses on ceramic tile.
While ceramic tile is a low-maintenance product, there is upkeep required to keep your tile floors in the best condition:
Vacuum your tile floor on a regular basis to get rid of surface debris. Vacuuming prevents dirt and debris from adhering to the tile and becoming embedded in the grout. Before mopping, make sure all loose dirt and debris are removed.

Clean ceramic tile floors with warm water. Soaps can leave a residue. Warm water alone can be sufficient. Alternatively, mix ½ to 1 cup of white vinegar in a gallon of warm water to use as a cleaning agent. Vinegar is a non-toxic mild acid with antimicrobial properties that can dissolve grease and other stains.

Use a rag or micro-fiber mop and move it over the tile floor in a circular motion. Do not use a sponge mop, as it will push dirt into the grout grooves.

Change the water in the bucket often. Dirty water will leave a film on the floor.

When finished, use warm water only to rinse the floor.

Let the floor air dry or use a towel to dry it.
Grout joints are susceptible to picking up dirt and debris. In addition, grout is porous and can become discolored from absorbing grease and spills. To clean the grout, follow these steps:
Make a paste using baking soda and water.

Allow the paste to sit on the grout for a few minutes before using a toothbrush to scrub the grout.

When the tile grout is clean, apply a sealant to the grout to keep it looking nice longer. The sealant will create a protective barrier between the grout and possible stains.
After cleaning your ceramic tile floors, cut down on future maintenance by installing mats inside and outside each exterior door to wipe shoes on before entering onto the tile floor. Also, a house policy to remove shoes at the mats can prevent extra maintenance work as well.
Please Like Us on our Facebook page or Follow Us on Google Plus
If you have questions about your home's foundation or foundation repairs, contact Atlantic Foundation and Repair at 919-855-0855.