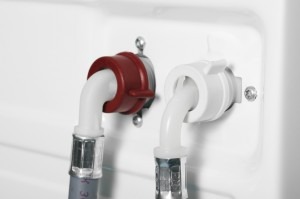 Home Maintenance Tip: Change Your Washing Machine Hoses
Posted on September 19, 2014
Washing machines are one of the most essential appliances that we have in our homes. Like every appliance, though, a washing machine requires maintenance. Washing machine hose bursts account for more than $150 million in damage to homes each year. Because of the pressure on the supply hoses, water can leak from a burst washing machine hose at an average rate of 650 gallons per hour and flood your house.
Washing machine hoses break because of age, faulty installation and manufacturer defects. A simple way to prevent this damage is to check your washing machine hoses every few months. Look for the following:
Kinks or cracks, as well as brittleness, all of which make the hoses vulnerable to bursting.

Signs of water drips, rust drips on the floor and rust on connectors.

Bulges on rubber hoses and unraveling of stainless steel hoses.
If everything looks good, check to make sure that the connections are tight. Replace the hoses every 3-5 years regardless of condition. To change your washing machine hoses:
Be smart. Never run the washing machine when no one is at home. Teach everyone who lives in your home where the whole house water shutoff valve is located and how to close the valve in the event of a leak from any plumbing fixture or appliance.
Please Like Us on our Facebook page or Follow Us on Google Plus
If you have questions about your home's foundation or foundation repairs, contact Atlantic Foundation and Repair at 919-855-0855.