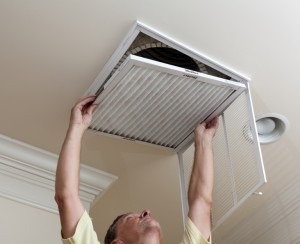 Home Maintenance Tip: Breathe Easier and Protect Your HVAC Equipment
Posted on April 18, 2014
Changing the filters for your heating and air conditioning system is a chore that is easy to forget. Yet, it is one of the most important ways to maintain the health of your family and the health of your expensive equipment.
Clogged filters don't allow adequate air to circulate through your heating and air conditioning system. Once the filter is clogged, the quality of the air you breathe will be lessened. A clogged filter means a dustier house. It also means that nasty pollen is not being filtered as well as it could be.
In addition, a dirty filter means that your equipment has to work harder to push air through the system to keep you warm in the winter and cool in the summer. The strain on the system can lessen the life span of your equipment.
Breathe easier. Check your filters on a regular basis. Change your filters at least every three months.
Please Like Us on our Facebook page or Follow Us on Google Plus
If you have questions about your home's foundation or foundation repairs, contact Atlantic Foundation and Repair at 919-855-0855.